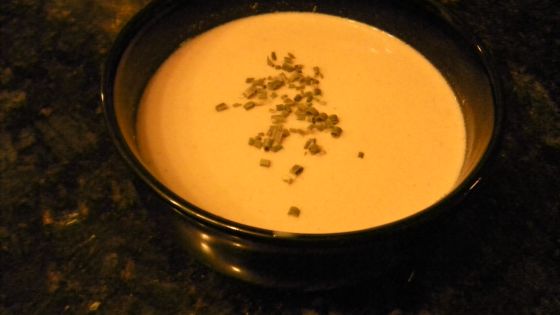 READY IN:

30 minutes

SERVES:

YIELD:

UNITS:
INGREDIENTS:
DIRECTIONS:
Melt 2 TBSP butter in large heavy-bottomed saucepan over medium heat. Add the garlic, onion and bay leaf, cover, sweat 2 minutes.
OPTIONAL STEP: Pour 1/4 C sherry in pan and ignite. Stir until flames subside. We've made this without doing this step (hence the range in the amount of sherry on the ingredient list) and it is still delicious, but we think this just gives it a little extra oomph.
Sprinkle the flour in and stir to coat.
Whisk in the crab stock until there are no lumps.
Gradually add: milk; cream; paprika; another 2 TBSP dry sherry; Worcestershire sauce; hot sauce; white wine; and lemon, stirring consistently.
Blend with a puree wand, or in batches in a blender.
Add half of the crab meat and roe (if you are lucky!) Season with salt and pepper.
Simmer 10-15 minutes, stirring often so it doesn't burn, until it is thick and heated.
Divide 1/4 C sherry and remaining crab meat and roe amongst 4 bowls. (1 TBSP each sherry and roe and 2 oz. each crab meat).
Ladle soup over sherry and crab meat.
Garnish with chopped chives. Serve with crusty french bread.